IFI Horrorthon 2021
October 22nd - 25th 2021

Welcome back to 2021's IFI Horrorthon, taking place both in-cinema at the IFI in Temple Bar and online on IFI@Home.

Although the event will be one day shorter than usual, this is still a full programme, make no mistake.

This year's line-up includes 22 new features on IFI@Home from Ireland to Kazakhstan and beyond, offering a wide variety of the best new horror films (only a few of which will remind you of recent events).

Each film will be available for three days from its IFI@Home premiere, with a 72-hour library window once rented, and a 48-hour watch window once you click 'Play'.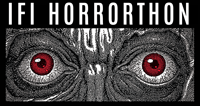 Collections